September 17, 2021 - September 19, 2021 Dallas, Texas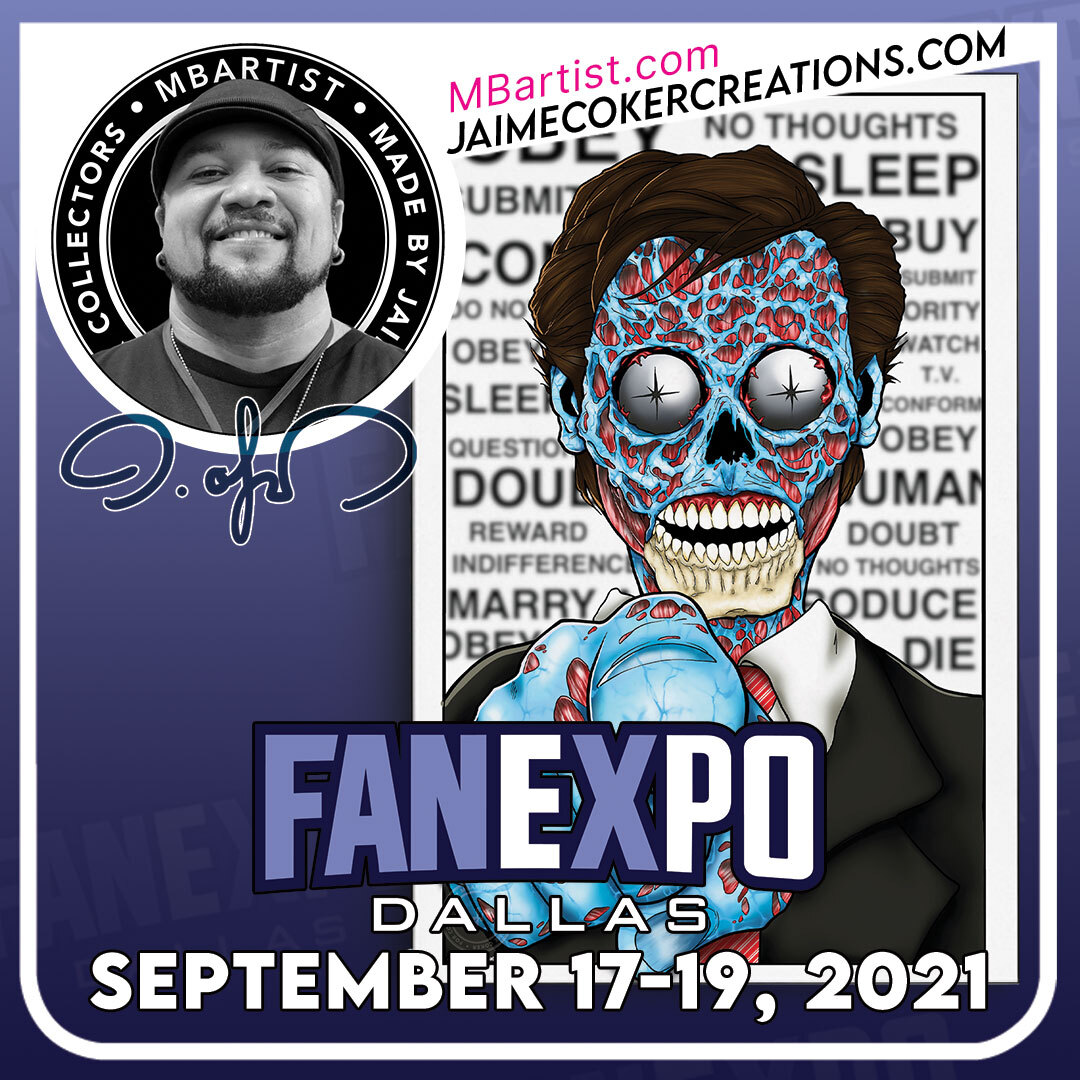 FAN EXPO Dallas
Contact: Jaime Coker
Kay Bailey Hutchison Convention Center
650 S Griffin St.
Dallas Texas
United States of America
75202
CELEBRATE FANDOM WITH VILLAINOUS VILLAINS ARTIST, JAIME COKER!
Jaime Coker is coming to FanExpo Dallas, September 17-19, 2021 located in artist alley across from the MBartist Gallery at Table TBD (look for PINK tables).
Jump the line and pre-order framed giclee canvas, fine art & platinum prints, cardback acrylic displays or Golden Age Tribute comic books at JaimeCokercreations.com and shop original art and pre-book commissions for event pick-up at the artist table.
Pre-Order Ends: August 27, 2021
In-Attendance Ends: September 16, 2021
PANEL: MBARTIST ALLEY LIVE: FAN EXPO DALLAS EDITION
SUNDAY, SEPTEMBER 19, 2021 - 1:00PM (Theatre 4 - D4)
Join your favorite artists like Bob McLeod, Chad Hardin, Joe Rubinsteib, John Hebert, Mostafa Moussa, Jaime Coker and host Steven Ahola as the artist round table takes their weekly YouTube/Facebook LIVE show (Wednesdays 3pm EST) on the road as we chat, sketch and answer your questions... in person! Each question will get a ticket into our draw for a FREE 8.5x11 cardback of their choice at the end of the event, autographed by their favorite artist. Also, each attendee will receive a one-time discount when visiting the MBartist Gallery at Booth 1155.
Event Schedule
September 17, 2021
4:00 PM - 9:00 PM
Title: Artist Alley
Location: Table TBD
September 18, 2021
10:00 AM - 7:00 PM
Title: Artist Alley
Location: Table TBD
September 19, 2021
10:00 AM - 5:00 PM
Title: Artist Alley
Location: Table TBD
September 19, 2021
1:00 PM - 2:00 PM
Title: MBartist Alley LIVE: FAN EXPO Dallas Edition (Panel)
Location: Theatre 4 - D4